Strike It Rich Adventures provides "hands on history" adventures in El Dorado County California. From gold panning lessons to underground mine tours, these adventures are educational and exciting for all ages.   Check out our NEW on-line store for gold specimens, gold panning supplies and other interesting minerals and gemstones.
Old and young alike get fired up when they spot that first "color" in their gold pan, or travel into the heart of a historic hard rock mine. While you're panning or touring the mine you can shoot the breeze with Miner Rich about the natural history of the area, mining history, mining camp life in the early 1850's or geology. Best of all, you're guaranteed to take home genuine gold as a souvenir of your day.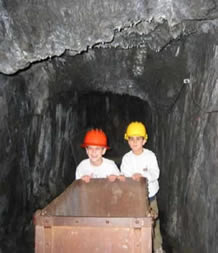 Underground mine tours are conducted at Placerville's historic Gold Bug Park, which is conveniently located 1 mile from Highway 50 in Placerville, California. Other features at Gold Bug Park are hiking trails, covered picnic area, stamp mill, museum and gift shop.
Strike It Rich Adventures has been offering adventures for school field trips, corporate off-sites, senior tour groups and family outings for over 12 years. No matter what your age, we guarantee you'll find fun and adventure in the heart of the California gold rush country.
Thank you for a wonderful learning experience. California history is such an important subject and it's so great that you can make learning fun! Thanks!
Webelo Pack 63 – Sutter Creek, CA